001: Azraq's Managing Director Natalie Banks on Marine Conservation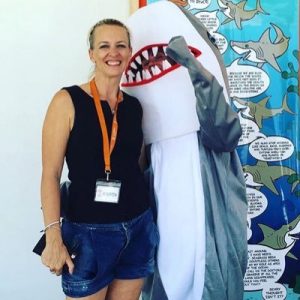 Ever wondered what role does shakes play in the ecosystem?
In this episode, we talk to Natalie Banks. She is the Managing Director of Azraq, a not-for-profit organization that focuses their attention on marine conservation issues in the Middle East and North Africa. Natalie is a qualified journalist that started her career as a radio journalist, before working as a media adviser for the Commonwealth Government of Australia, after which she moved into the not-for-profit sector. She has been instrumental in organising national and international rallies against the use of drum lines and shark nets in Australia.
She started up her own association, No Shark Cull Inc and starting working for Sea Shepherd Australia on marine conservation.
During this episode, we take a look at what effects our ecosystems are facing with almost 100 million sharks being killed annually. We also dig a little deeper in other issues that our ocean is struggling with from single-use plastics, pollution and also look into some wonderful campaigns that Azraq have been doing to create more awareness.
Episode Highlights
[02:17] What got Natalie into Marine Conservation.
[03:45] My first open water dive was with a whale shark.
[05:40] It will have a domino effect when we remove a shark habit out of the ocean.
[06:18] We use to call the sharks the doctors of the seas but they will pray on the sick and the ill fish first because they are easy targets so they are keeping the oceans healthy that way as well.
[06:50] We have got some species of sharks that are down 95% in that species range.
[07:06] In some of the places where sharks have been fished out, we are seeing dead zones in the oceans which impacts human health.
[08:49] I realized that there was no science whatsoever that says that culling sharks will increase the safety of beach users.
[10:35] The media has played a massive role which has also impacted the political view of what to do.
[10:46] You have got more chances of being killed driving to the beach than being actually attacked at the beach by a shark.
[11:09] Facts and understanding does help.
[12:28] One million plastic bottles are sold every minute, with less than 10% of these being recycled.
[14:11] If the plastic is in the oceans it is breaking down, and it is breaking down into microplastics that is a massive issue in our oceans at the moment.
[14:56] We are starting to see cancers being connected to plastics.
[19:13] And we want to be able to reach out further than what we have been currently.
[20:07] It was a no-brainer for me.
[21:03] As well as a formal letter that people can download from our website and leave that at a food outlet to say would you consider changing from plastic straws to an alternative.
[21:54] I prefer my little glass straw cos I feel it has a little bit more style and sophistication about it.
[24:50] We forget sometimes how powerful our voices and our decisions can actually be.
[25:55] You have the opportunity to have a knock-on effect on them that they have a knock-on effect on someone else.
[28:15] A lot of people would say the beaches are clean but I can guarantee you it won't take me very long to find cigarette butts.
[28:41] 30-40% of what we clean up on the coastal or urban clean up is cigarette butts. It is the number one item that we find in coastal cleanups.
[30:55] The most important decision I made was leaving my corporate role and that I was going to follow my gut feel and my heart.
Final Five
1.What is one social media platform that you follow?
2.What is your hope for mama earth going forward?
I have a lot of hope in our next generation.
3.What advise can you give our crazy birds this week to help out mama earth?
Refuse the single-use plastic straw and follow your heart.
4.What is one sustainability fact that you like to use in a room with people not yet on a sustainability journey?
There is 8 billion tons of marine debris being empty into our oceans yearly and if you can not imagine what that would be, it is 5 plastic bags full of rubbish every foot of the coastline every single year.
5.Where can people find you?
Key Take Away
"A lot of people would say the beaches are clean but I can guarantee you it won't take me very long to find cigarette butts"
Even when we think the beaches are clean there are always some cigarette butts that are harming the environment and that we need to do our part to encourage people not to drop their cigarette butts but rather dispose of them correctly.
References