038: Top Tip Thursday, The Water Footprint with Mariska Nell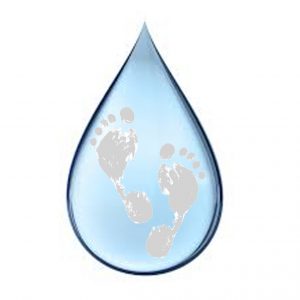 In this episode, I will be sharing with you what exactly a water footprint is. If you are not sure what I am talking about and wondering if the water footprint might be the footprints you leave behind when getting out of the pool or shower. It is not quite those footprints I am referring to today. Everything we use, wear, buy, sell and eat uses water to make and can be measured for a single process, such as growing an apple, for a specific product that you have, the making of your pair of jeans to helping us in determining the water footprint of an entire company, a country as well as the global total. We will also be looking at what the water footprint is for a few items like an apple, egg, chocolate and a few others to see exactly how much "water we use" every day.
Episode Highlights
[01:32] The water footprint can help companies to determine where in their supply chain is the water dependence. It can help governments to put regulations in place to protect their water resources, especially in times of drought, but also to help them prevent reaching a severe drought.
[01:55] The water footprint can also help us as individuals to look at our daily lives and question items we use daily out of habit rather than necessity and to reduce our water footprint even if it is through little changes, every drop adds up.
[02:35] It takes about 140 litres of water to produce that cup of coffee.
[05:22] According to a report done in 2011, the global water footprint for humanity from 1996-2005 was 9 billion and 87 million of cubic meter per year. This is divided into 74% green, 11% blue, 15% grey water footprints. The biggest contributor to the water footprint was the agricultural production that is responsible for 92% of the water footprint during this period.
[06:41] I want to take a moment and look at some of the different items that we might eat or wear in our daily life and see what their water footprint would be on average.
An apple – 70 Litres
1 Slice of Bread – 40 Litres
1 Egg – 200 Litres
100g of Chocolate – 2,400 Litres
A Pair of Jeans – 11, 000 Litres
A Beef Burger – 2400 Litres
[07:50] Calculate your average water footprint here
[08:22] One of the easy steps to do is to try and go meatless for one day or only have meat and dairy every other day. By reducing your meat and dairy intake, it will already reduce your water footprint a lot. Maybe see to take a shorter shower, remember the tip in episode 12 about selecting your shower song and only shower as long as the 2-minute song? You could close the tap while brushing your teeth and maybe also look at shopping second hand in the future whether it is for your furniture, tools or even clothing. These are just some of the ways that you can easily reduce your water footprint, there is, however, many more and as each of us have different lives, I would suggest looking at where your biggest water uses are and try to see how you can start to reduce that.
Key Take Away
"A Pair of Jeans – 11, 000 Litres"
11, 000 litres of water for one jean. That is an insane amount of water for one pair of jeans. If you were to look at your wardrobe currently, how many pairs of jeans would you find? This is not just the jeans but all the things we surround yourself with. Now that we know how much water it takes to make these items, we could maybe rethink our habits and instead of buying items on inpulse, rather only purchase the items that you really need.