037: How a company is raising awareness for endangered species with Luke Morris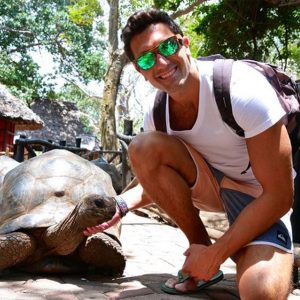 In this episode, we talk to Luke Morris. He is an entrepreneur and the creator of Wild Body Active and Wild Wood.
During this episode, we take a look at some of the endangered species their Wild Wood products are named after. We also look at how switching to a bamboo toothbrush can help the environment.
Episode Highlights
[01:10] How did your sustainable journey start?
[02:10] When you travel around Asia and there is kids kicking water bottles, plastic bottle on the beach as suppose to footballs, then it kind of stays in your mind.
[03:56] What inspired the start of your company Wild Wood?
[06:07] I wanted it to be all eco-friendly and sustainable, made from reclaimed wood.
[07:02] I also wanted to bring in endangered species into play and give our sunglasses a bit of character as well.
[08:30] They are made from recycled bamboo. The bristles are bio-degradable polymer mixed with charcoal so it gives it a natural kind of ingredient but it also is good for removing plaque and for making your teeth white and natural.
[10:44] People love the fact that they are named after endangered species and the watches are actually named after rainforests and jungles so that is a different dynamic.
[11:34] So for every pair of sunnies or watch that is purchased we plant one tree through the nature conservancy.
[14:08]: You can purchase our products at Surfhouse or from the stock list of retailers or distributors.
[14:38] What has been one of your most important decisions that you have made around mama earth?
Final Five
1. What is one social media platform that you follow?
2.What is your hope for mama earth going forward?
That we get more people to care more about it and that means taking more action and it doesn't need to be a big step. It can be a little step.
3.What advise can you give our crazy birds this week to help out mama earth?
To do little things.
4.What is one sustainability fact that you like to use in a room with people not yet on a sustainability journey?
I talk about my brand quite a lot, so it is more about endangered species, so, for instance, the Vaquita, there is less than 40 Vaquita left in the world.
5.Where can people find you?
Key Take Away
"To do little things. "
When on a sustainable journey you do not have to feel you are moving a mountain every single day. Focus on the things that you can do and start with the little things in your life that you can change and feel good about them.