042: Top Tip Thursday, Eco-Bricks with Mariska Nell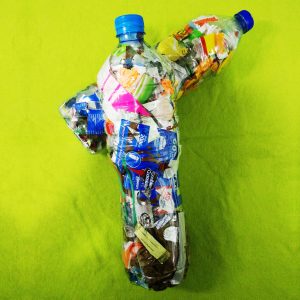 In this episode, I will be sharing with you what an eco-bricks is and how this bulletproof building material is making waves in the building industry and cleaning up waste while doing so.
Episode Highlights
[00:57] An eco-brick is a plastic bottle, that is packed to a set density with cleaned and dry used non-biodegradable materials. These vary from cellophane, Styrofoam, plastic bags, straws and packing materials. These are usually all your soft-plastic materials that cannot be recycled by your local recycling facility.
[01:41] In 2016, Upcycle Santa Fe was awarded a research grant that assisted them to study whether compressed plastic waste like that in the eco-bricks was as safe as common store-bought insulation. The result of the study revealed that as an insulation material, common plastic waste emits no traceable harmful chemicals. Plastics in the environment disrupts the cycles of life and by placing these items in an eco-brick, helps control the materials that would have normally become toxins, by sealing it away.
[02:20] The eco-bricks is also a highly insulated building material that is fire, water and bullet-proof.
[03:16] Materials like paper, metal or glass should not be added to the eco-brick as they are usually recyclable through the majority of municipalities.
[03:43] The main objective with creating an eco-brick is to be able to use hard to recycle items and place them in the bricks. This will be able to divert a lot of plastic from the landfill as well as provide people with more affordable building materials they would be able to make themselves.
[04:05] A few things that you can do when starting your eco-brick.
Make sure you use the same branded bottles for each individual project as this will make building easier. Try to use the bottles that are most common in your community.
You can cut the materials that need to be placed in the eco-brick into small little strips. It does not have to be, but I often cut mine in 1 x 5cm strips. This will allow you to easier fill little gaps in the bottle. Before you start cutting, make sure all the plastic to go inside the bottle is cleaned and that there is no organic matter stuck to the plastic pieces.
When you have added the items to the bottle, use a long thin stick and push the materials down that it covers a variety of different areas and make sure you cover the corners of the bottles well. If you will have a small part of the plastic bottles exposed as part of the design, it is advisable to maybe stick with the same colour for about the first centimetre of the bottle.
You can then just keep on filling the bottle until it is completely full. You would then be able to place the cap on and walla, your brick is done.
[06:29] We will even unveil our own eco-brick program early 2019 in the UAE, to start our own movement here.
[06:48] These eco-bricks can be used to build a variety of different items, from structures, furniture to decorative items. For some of the projects, one would require quite the amount of eco-bricks, a two-room classroom would use about 6,200 eco-bricks that is a lot of waste diverted from landfills. Your designs will only be limited to your creativity. I for one have many more amazing designs that I can not wait to start with.
Key Take Away
"This will be able to divert a lot of plastic from the landfill as well as provide people with more affordable building materials they would be able to make themselves"
Eco-bricks is such a wonderful initiative and one that will help us to reduce the size of landfills if people start diverting non-recyclable items into an eco-brick. This will also help us to view our waste and to see what items we would be able to eliminate from our lives. I am very excited to have this initiative in the UAE as well very soon.