043: How we can all smile through light with Mariama Kamara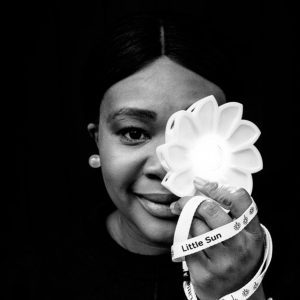 In this episode, we talk to Mariama Kamara. She is the founder and director of Smiling Through Light that works with a network of women to provide clean, reliable and sustainable energy in Sierra Leone.
During this episode, we take a look at how Smiling Through Light has impacted many lives in Sierra Leone and Mariama's Beam Talks in the UK that is inspiring many. We also talked about Paloma Faith's music video, Warrior and how Mariama got selected to be featured as one of the "warriors".
Episode Highlights
[01:08] How did your sustainable journey start?
[06:40] When you see a problem you are the one that can create a solution. You are the one that can change that.
[07:23] What is Smiling Through Light?
[12:24] You know that when you are working with the woman, they will always go back and invest in their families. They will invest with their kids.
[14:51] If you use kerosene your eyes start watering, it becomes very cloudy, your inhaling obviously CO2 which is just dangerous and really bad for your health.
[15:32] If you have a solar lantern you can learn, you can use a clean eco-friendly a brighter solar lamp to help kids improve their education.
[21:21] What is Beam Talks?
[26:01] You have been featured on the recent Paloma Faith's music video, Warrior. How did this come to life?
[29:40] What has been one of your most important decisions that you have made around mama earth?
Final Five
1.What is one social media platform that you follow?
2.What is your hope for mama earth going forward?
I really want people to respect Mama Earth.
3.What advise can you give our crazy birds this week to help out mama earth?
If you got anything, please focus on it, work on it and keep on going.
4.What is one sustainability fact that you like to use in a room with people not yet on a sustainability journey?
I always tell them a story and I always highlight in Sierra Leone we have a population of almost 7 million people and only 13% of the population have access to electricity and in rural communities, it is less than 1%.
5.Where can people find you?
Key Take Away
"When you see a problem you are the one that can create a solution. You are the one that can change that"
There is a lot of issues we are faced with every single day but we have the power to make a change even if it is a small change. Every step forward is a step in the right direction, no matter how big or small the step it. You just have to start. You are the one that can change that.