009: Executive Director at SEE Nexus, Karim El-Jisr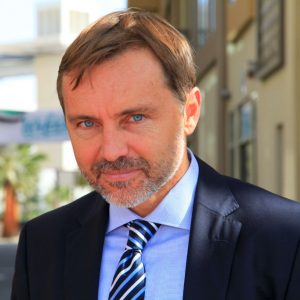 In this episode, we talk to Karim El-Jisr. He is the Executive Director at SEE Nexus, the innovation centre at The Sustainable City, Dubai. He has held many high-profile sustainability positions in the MENA region including the World Bank, ECODIT and Executive Council of the Government of Dubai.
During this episode, we take a look at how The Sustainable City has created a benchmark for sustainable living. We look at solar energy as well as the importance of removing cars and why it is important to push to alternative transport and to walk more.
Episode Highlights
[01:17] How did your sustainable journey start?
[02:07] It was second nature to grow food somewhere in the backyard.
[02:33] The entire city was designed and conceived to be a quote on quote sustainable because sustainability is something that is very difficult to achieve and it is not absolute, we can be more sustainable, we can be ever more sustainable but are we ever sustainable enough and I think we can always push the boundaries.
[03:43] We also have a zero service fee in the community, so by living here you do not have to pay, you don't receive an invoice every so many weeks or months to pay for this or that all that is absorbed into the business model of the community.
[04:41] We have to bring in trees into that setting to improve the microclimate, so this is the premise. We would like to provide greenery not only for the site and the beauty of the community but to modify the microclimate that it feels cooler, it feels fresher.
[06:58] If you have more biomass in the city you are actually shifting carbon dioxide from a gas ular state which contributes to global warming to wood and eventually to the soil.
[07:23] We believe that cities have to grow food. We may not be self-sufficient, we may never be self-sufficient within the city boundaries but growing food for us is really part of the DNA.
[08:02] When you start growing your own food you start to appreciate the cycle of life. Otherwise our people, children are going to say that bananas come from the supermarket and potatoes comes from the marketplace, right, where they need to trace it back and I think it is important to establish those connections and show people where does food come from.
[11:14] The beauty of Denmark and their carbon targets is that it looks and it seems effortless, you know everything is seamless.
[11:38] What strikes me every time I visit and I visit ones a year, are the improvements they make to the biking infrastructure.
[14:31] I think we all need to think of how we move inside the city, which means every time we hop into the car, let's think about the car. Can we downsize the car, do I need the car, should I drive alone or can I carpool with someone?
[15:08] We have to downsize or get rid of the cars and obviously push for better alternative transport and that is coming.
[15:14] I think we should edit our shopping choices. Every time we go shopping somewhere we need to think twice about it, do we need it and am I purchasing the right product. I think those would make a huge impact on the society.
[15:56] Most important decision that you made around Mama Earth.
Final Five
1.What is one social media platform that you follow?
2.What is your hope for mama earth going forward?
My hope and my wish is that Mama Earth is going to be kind enough to give us a little bit more time for us to fix all the mistakes we have done so that Mama Earth can be in a better shape. Time is running out so I do hope Mama Earth is going to extend that time needed for us to fix it.
3.What advise can you give our crazy birds this week to help out mama earth?
Drive less.
4.What is one sustainability fact that you like to use in a room with people not yet on a sustainability journey?
Look at your thermostat if it is too hot, then there is too much heating, if it is too cold then there is too much cooling and in both cases, your carbon footprint goes up. I think we need to manage that and find that thermal comfort which is ok, even if we have to put on a sweater or actually take off our suit.
5.Where can people find you?
The Sustainable City Instagram
Key Take Away
"I think we all need to think of how we move inside the city, which means every time we hop into the car, let's think about the car. Can we downsize the car, do I need the car, should I drive alone or can I carpool with someone."
We often just jump in the car and go for a drive without thinking about other alternatives that we have available. Maybe instead of driving on your own, try to carpool, make use of public transport, cycle or walk to your destination. Although some of these options might not be feasible for you and you would be left with no option but to drive to and from your destination, but we can always try and reduce the number of times we drive and to try our best to plan our drive to be more sufficient and to try and completed more than one errands at a time.
Subscribe to Mama Earth Talk