031: How Nude Foods are changing the way we shop with Paul Rubin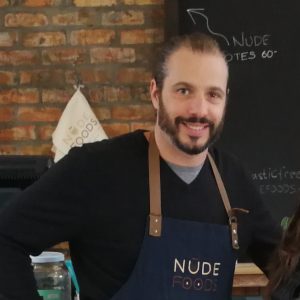 In this episode, we talk to Paul Rubin. He is the founder of Nude Foods the first plastic-free grocery in Cape Town, South Africa.
During this episode, we take a look at his journey that leading him to open a plastic-free store, some of the challenges he had as well as the client's feedback on the old-school grocery with a modern twist. We look at the why plastic and packaging are as pointless as a bodysuit on a butternut.
Episode Highlights
[01:00] How did your sustainable journey start?
[03:50] That has really been the feedback from many of our customers, that exact point that they feel a lot more connected to their food or products that they buy.
[04:18] We currently have about 300 SKU's or products and we source as much of those products locally. Wherever products are available locally we will give preference to those suppliers.
[04:57] We also have a zero waste lifestyle range because everything from your reusable coffee cup, to your reusable straws, dry produce bags, your fresh produce bags, your stainless steel lunch boxes, all that really useful products that help to live a zero waste lifestyle more easily.
[06:35] We are trying to make whole foods and earth-friendly products more affordable and therefore more accessible to a wider range of the South African community.
[08:04] Other than being package-free what would you say sets you apart from regular grocery stores?
[10:55] What happens to expired food items?
[11:25] We have partnered with an organisation called Streetscape, which upskill homeless people and teaches them how to grow or to tend their own fresh produce. All our unsold fresh produce are then send the Streetscape and is added to their existing compost.
[11:59] What has been the feedback so far from your clients?
[16:42] What is next for Nude Foods?
[18:15] What has been one of your most important decisions that you have made around mama earth?
Final Five
1.What is one social media platform that you follow?
2.What is your hope for mama earth going forward?
I think mother earth as a planet is going to be just fine, she will probably still exist long after. My concern is more for the human race. I think as humans we are a bit more endangered as the planet. My hope is that the consciousness shifts from consumerism that we are seeing more and more of and reaching a tipping point much sooner than later.
3.What advise can you give our crazy birds this week to help out mama earth?
People are still sending organic waste to landfill even though the name implies it is a waste it is actually a great asset. All of our compostable waste should really be composted.
4.What is one sustainability fact that you like to use in a room with people not yet on a sustainability journey?
Every piece of plastic ever created still exists on earth.
5.Where can people find you?
Key Take Away
" Every piece of plastic ever created still exists on earth. "
This is indeed a very scary fact and it makes me want to try even harder to refuse single-use items that are really not required. This way we would be able to slowly reduce the demand for items that we do not require.