AM Cream With Sun Protection
When it comes to face creams I am a bit hesitant to try just anything. As someone that had very bad acne in high school, I still fear having it return and having to play a layer of foundation to cover up pimples. I have been using this cream for well over a year and my skin still feels amazing and no breakouts.
It is super easy to make and a little really goes a long way. By including zinc oxide also adds some form of sun protection. But if you are going to be at the beach or in the sun the entire day, I would recommend applying more sun cream throughout the day.
In order to make this recipe, you are either going to use a microwave or stovetop to melt your ingredients as well as a blender to whip it afterwards.
Ingredients: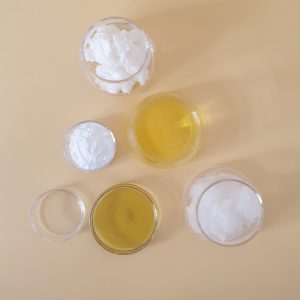 75g shea butter

 

75g coconut oil

 

50g jojoba oil

 

20g evening primrose oil

 

10 g zinc oxide

 

30 drops of essential oil 

( I

 love to use 

ylang

 

ylang

)

 
Method:
Combine shea butter, coconut oil and jojoba oil in a glass bowl and heat it (oven, microwave, double boiler) until all the ingredients and melted.

 

Remove your bowl from the heat and the remaining ingredients and mix it well. 

Wait until the bowl has cooled a little (10-20 minute). Give the mixture a good stir and place in the fridge for 4-5 hours to give it time to almost solidify.

 

Once it feels firm when you touch it, remove it from the fridge and give it a whip with a hand or electric mixer. This will give it a fluffy white texture.

Your face cream is now ready to be transferred into a glass container of your choice and ready to be used every morning. Start by only using a little as it can look very oily, a little really goes a long way.