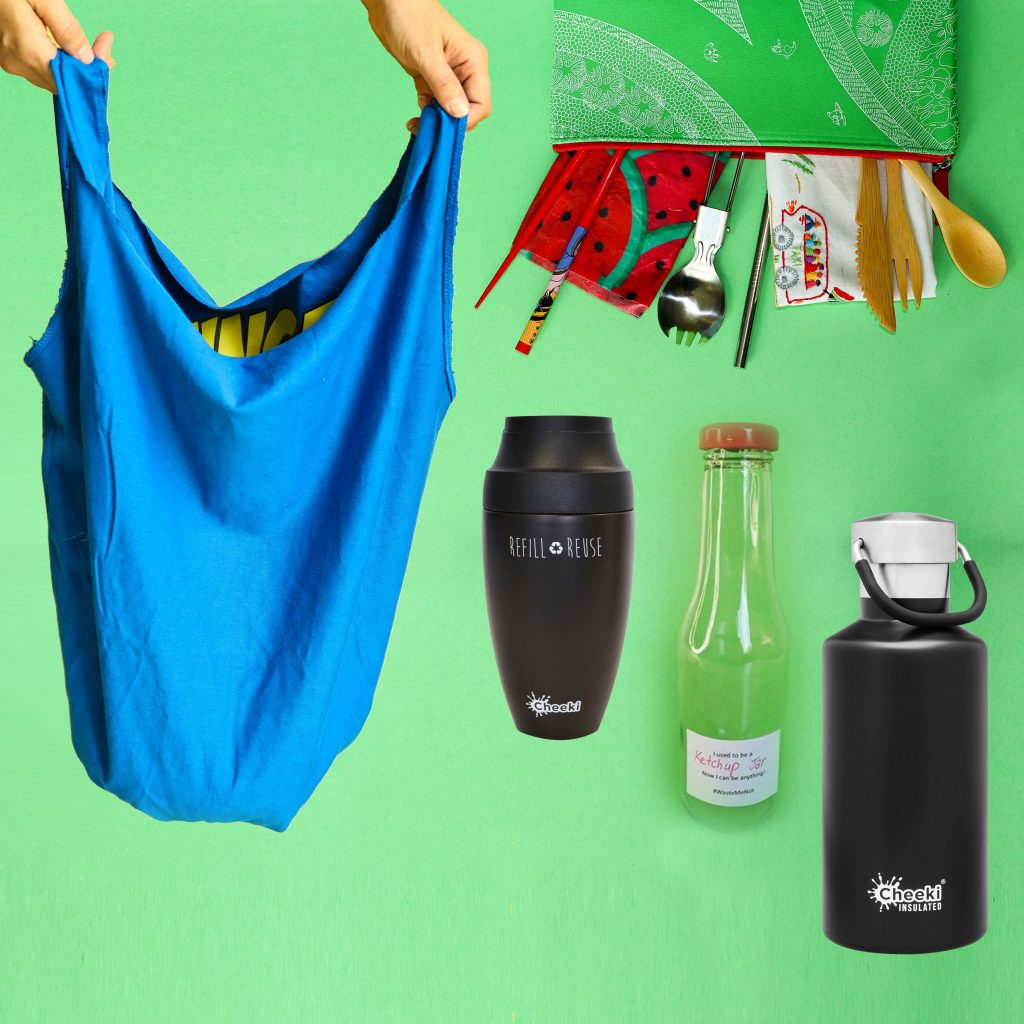 I find that being prepared when heading out is the best solution to reduce waste. Whether you are going for a brekkie, coffee with a friend, the grocery store or just strolling about, there are always a few things that we can carry with us to reduce waste.  I would like to share with you my three kits. My on-the-go sustainability kit, sustainability drawer and always in the car.  
On-The-Go Kit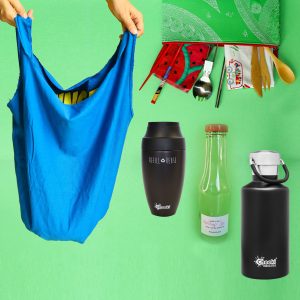 This kit is always with me when I leave the house. Either in my handbag or a tote bag that would double as a shopping bag. The trick here is to keep the kit light and easy to carry and ready to use. Once I have used one of the items, I make sure to give it a rinse on the go and a good wash when I reach home and put it back in the kit once dray.  
My On-the-go kit includes the following reusable items:  
Shopping bag

 

Water Bottle (400ml insulated)

Beeswax wraps

 

Napkin (I also use it to cover my beeswax wrap)

 

Spork

 

Cutlery set 

 

Chopsticks

 

Straw and straw cleaner

 

Coffee Cup or Glass jar (only when I know I will grab a take away drink)

 
Sustainability Drawer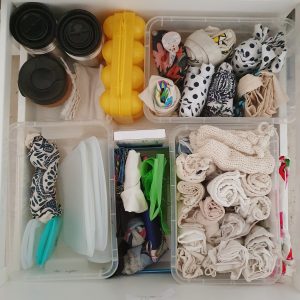 This drawer is close to our front door and is dedicated entirely to items that I use when out and about, during a grocery trip or when I need an extra reusable cup. (Girlfriends I got your back) 
The key thing about this drawer is to keep it organised and return anything you removed from there once you are done. You might want to give it a wash and make sure it is dry and ready for the next time you want to use it.  
Often when I am about the run out of the house, I am in a rush and trying to remember to take everything I need without having to open a ton of drawers and cupboards and try to remember where everything is has been absolute bliss. Now I know I can just calmly walk over to one drawer and grab what I need on my way out.  This drawer could also be a great spot to keep your keys and sunglasses as you would be sure to remember them before leaving the house.  
My sustainability drawer includes the following reusable items: 
Reusable shopping bags

 

Reusable cloth and produce bags – All of them are rolled up and tied with a rubber band to keep them from unrolling. One bag is just folded and this is the bag that I fill with produce bags to take to the store. Keeping them neat and together. I also place the rubber bands in this bag while shopping. Having the bags rolled up like this makes it easy to place any unused bags back and keep things clutter-free when shopping.

 

Water-soluble crayons if I need to write on produce bags.

 

Stasher bags 

(Can't live without them)

 

Beeswax wraps (Anything from a salad, pasta or cheese gets wrapped)

 

Reusable silicone wraps

 

Reusable fabric lid covers

 

2 reusable sporks

 

Bread bag (love the watermelon pattern on this one and it keeps our bread fresher for longer.)

 

Reusable egg container (Great for taking to the market)

 

2 

widdow

 socks (The socks that go into the washer married and come out a 

widdow

)

 

3 x reusable coffee cups (one for me, one for hubby and one if I know we are going with a friend)




 
Always in the car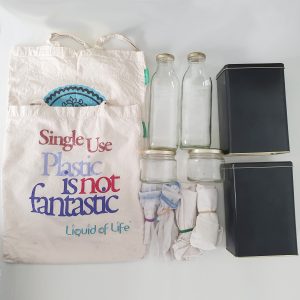 Grocery trips are usually planned out before I head to the store. I make sure I have done the meal prep and created a shopping list based on what we would need after checking our cupboards and fridge. I would then make sure to take enough bags and containers for everything I will purchase and a few extra just in case. But there have been times where I made a quick unplanned shopping trip and then have to rely on what is in the kit in the car.  
My always in the car kit includes the following reusable items: 
Reusable shopping bags

 

Cloth bags

 

Produce bags

 

Glass containers

 

Tins (These are to keep the glass containers secure as well as serve as an extra container when needed).

 
These three kits have really helped our household to reduce the amount of single-use plastic we use as well as make us appreciate resources a lot more. The items in the kits are selected based on our requirements, each person's requirement will be different, although there might be a few items that will be used for all, like the reusable shopping bags. It is important for your kit to work for you and include the items that you might use. You might love bubble tea or a smoothie on the go, then a reusable big straw and a juice container might be some of your key items to add.  
Being sustainable does not mean you have to own the most eco-friendly reusables, use what you have first that is after all the most sustainable option. If you need to purchase something, check the second-hand market, your local buy nothing group or your favourite op shops. If you need to purchase something look at the best option for you in your budget and if there are replacement part available for the item. (Example a water bottle where a replacement lid can be purchased or a seal for a container etc.) 
Once you have your kits set up and ready, remember to return the items after they have been used and cleaned to make sure the system continues and helps you to reduce your waste.