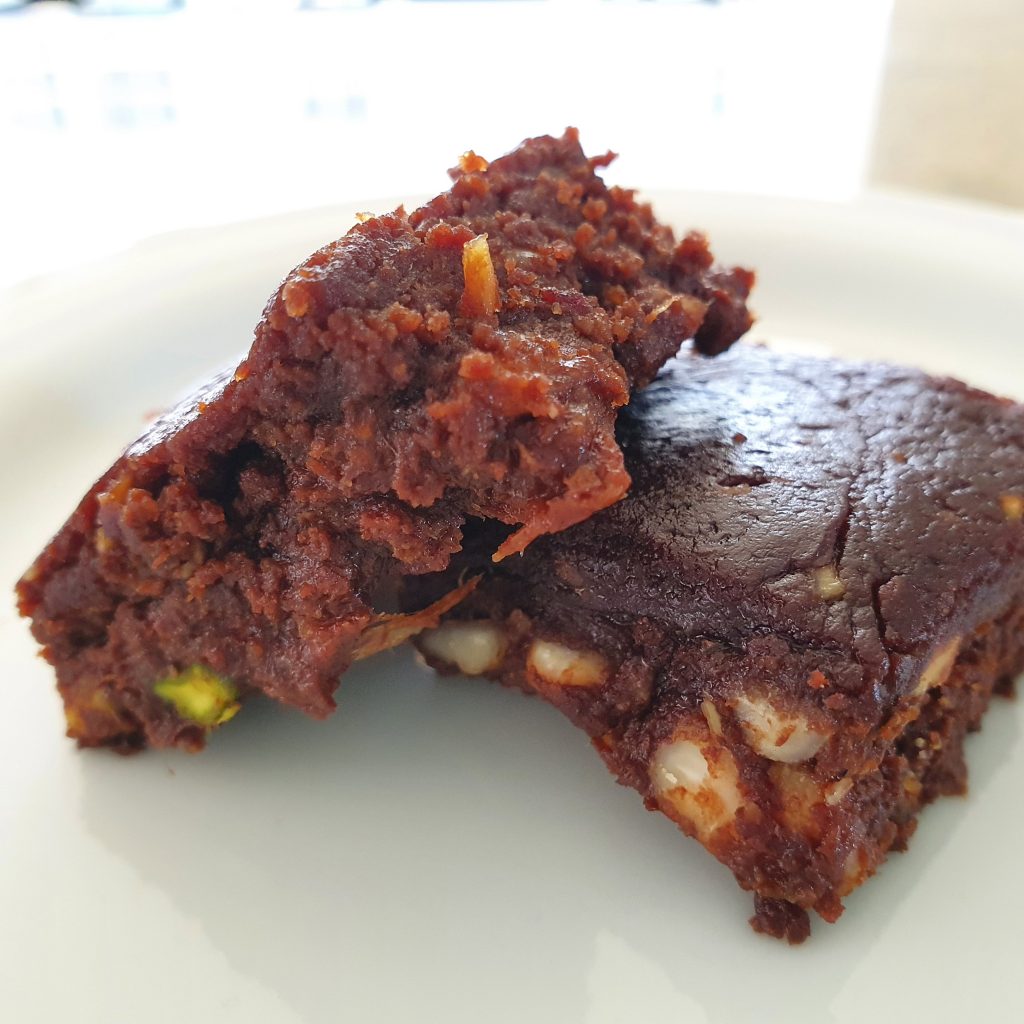 This is one of my favourite snacks. If you do not like dates, I would really advise you to still give it a go. I have given these brownies to a few of our family members that really do not like dates and they loved it. They only found out afterwards that they ate dates and they still love it.
Ingredients
Brownie
350g pitted dates

Boiling water to soak dates

250g nuts (I love macadamia and walnut mix)

45 g raw cacao powder

1/2 teaspoon salt
Frosting
150g peanut butter

20g cocoa powder

40ml maple syrup or honey

60ml of drained date water or a mylk alternative
Method
Line a baking dish or tray with baking paper. If you want to be more zero waste, you can use a silicone baking sheet. The brownies will not be baked so your dish or tray does not have to be oven-proof.

Place your dates in a bowl with boiling water and leave it for 15 minutes. You want to just cover the dates with water.

Drain your dates and save the drained water as you will use some for your frosting and they can work well to sweeten other drinks as well, so try to use wherever possible.

Pulse your nuts in a food processor. I like to still have little nut chunks in the brownies, but if you want a smoother texture, you can pulse till all is smooth.

Remove the nuts and place it in your mixing bowl.

Pulse your dates in the food processor, until the

dates are really smooth. You do not want this to be chunky as this is what binds your mixture.
Mix all the brownie ingredients together. I like to use a dough hook on my mixer on a low speed until everything is blended well. If the dough is not keeping together well, you can add more smooth dates.
Transfer your dough to your prepared baking dish or tray and place in the freezer for 10-15 minutes.
To make the frosting add the peanut butter, cacao powder and maple syrup in a pot and place on a medium heat. Slowly keep stirring the mixture until everything is blended well together. The consistency needs to be like a thick frosting that is spreadable.

If your frosting is too stiff, add a little drained date water or mylk alternative at a time. If you have a very runny peanut butter you might not have to add a lot, but if your peanut butter is not runny you might have to add a little more of the date water.

Once you have your frosting ready, you can spread it over the chilled brownie and place back in the freezer for 10 minutes.
After the frosting is cooled down, you can cut your brownie in bite-size squares and place in an airtight container and keep in your fridge. I make sure to place baking paper or silicone sheets in between the stacked brownie layer in the container to make sure they do not stick to each other.
Enjoy.