Zero Waste During Isolation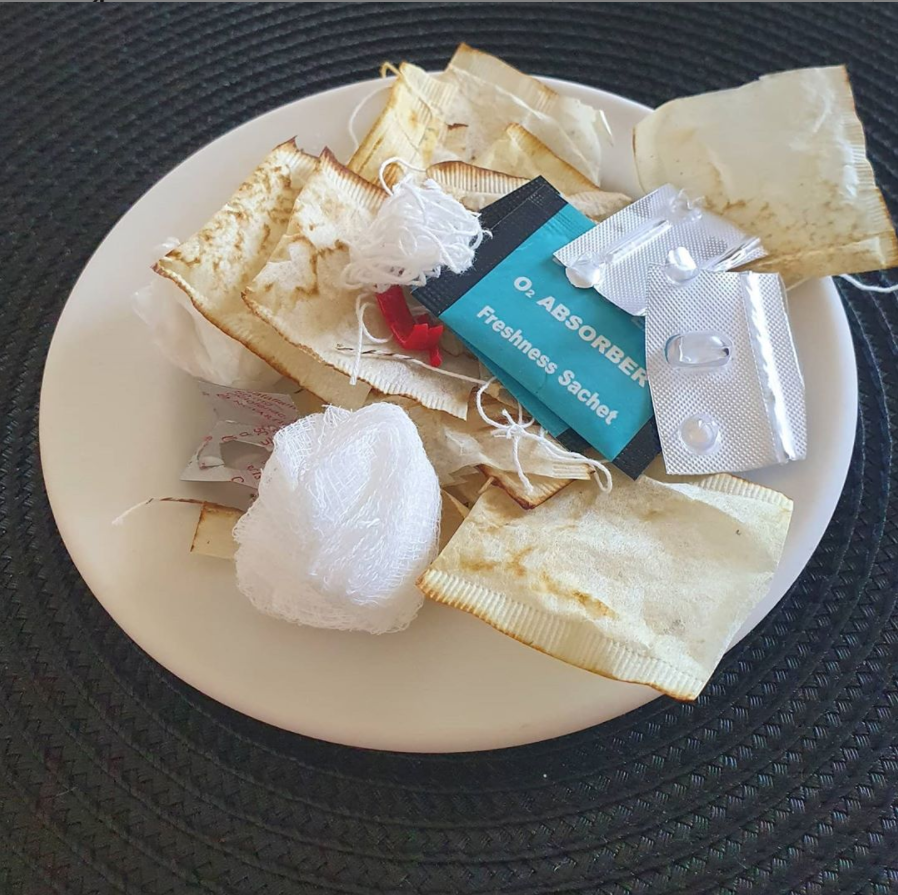 Living a Zero Waste lifestyle can be challenging during normal circumstances throw in 14 days of self-isolation and you have an entire new ball game. I would like to take you through my experience with zero waste during isolation and provide you with some tips on how you can easily keep your waste to a minimum by following these tips.  
2020 definitely threw a few curveballs, and COVID has been a challenging time for many, and I do hope all of you are staying safe. This year we had many plans, we would have travelled to South Africa for a wedding as well as visited friends and family in Dubai and also pack up the last of our stuff. We also planned to start building our tiny house and I hoped by the end of the year we would be living in our tiny house and have a dog. Boy did 2020 have other plans for us. Needless to say, none of our plans worked out and there were some times that were harder than others, but we got through it.  
In September my husband got a wonderful job opportunity that meant we had to sadly leave Brisbane behind and head back west to Perth, Western Australia. At the time of our move, Western Australia still had a hard border. This meant we had to apply for passes to enter and after our arrival self-isolate for 14 days. We were not allowed to set foot out of our apartment for 14-days. To say they were strict might have been an understatement. During our 14 days, we had the police stop by twice to make sure that we were adhering to all the rules and had no symptoms of COVID.  
Not being able to leave the apartment, we had to rely on online grocery shopping and food delivery services to get our food. We were also lucky to have family close by and they could drop off a few things whenever we needed.  
The accommodation we stayed during self-isolation had a fully equipped kitchen where we could do a lot of cooking ourselves. This could be a totally different experience if we are in isolation in a hotel room where you only have your room and bathroom and no way of prepping your own food, other than maybe the odd sandwich, but there are still some tips that you can use even in that situation.  
One of the biggest tips for any situation is to come prepared. We tried our best to do so given the circumstances. We were not allowed to bring food with us on the flight as we were flying to a new state. So, these were my go-to things that I did pack. 
As we were going to be in the same apartment for two weeks, I definitely did not want to use the bin as that would really smell terrible after 2 weeks and no means of throwing it away before our isolation ended. Getting through 14-days of self-isolation with no bin took some planning but was a lot easier than I thought.  
Ordering Food Online
Ordering groceries online can be hit or miss, depending on where you order from. We tried two different companies and had two very different experiences when it came to the delivery and how much single-use packing they used.  
Before you even start to shop online, make a grocery list of some of the dishes that you could possibly prepare and check what ingredients you have and also if you have all the necessary tools to prep for the food. If you do not have an oven and only access to a kettle, microwave or no form of heating, but you have a fridge to keep items fresh it will for sure influence what meals you could prepare. There are great easy recipes online, some of my favourites were salad, wraps, pasta and of course a good vegemite and butter sandwich, we are in Stralia after all.

 

Do a little research online to see what are some of the grocery stores that deliver online in your area and if there are any of them that offers a more sustainable delivery option. 

 

Start browsing for your products online and check if it is possible to purchase the items with the least amount of packaging and if it is packaged that the packaging could either be reused (The glass pasta sauce jars were amazing to store food and we are still using it.) or recycled where you are. Make sure to include a few essential items like dish wash liquid, soap or powder that you can keep your dishes and 

your

 recycling clean and also a few cooking essentials like oil, salt or your 

favorite

 spice to make your food super yummy. 

 

You are going to be cooped up for two weeks, so I highly recommend to also order a few comfort snacks to keep you going and having some comfort snacks could go a long way to especially if the isolation starts getting to you.

 

If you are ready to check out, make sure to select any options they might have for sustainable packaging and also leave a delivery instruction to reduce the use of single-use plastic packaging wherever possible, especially for produce. Also do mention that you are in isolation and that they need to bring the groceries to your door.  

 
If you do not want to cook all of your meals, then there is also the option of ready-cooked meals (take-aways, fast food) that can be delivered. Normally I would go for a packaging that is either compostable or recyclable, but during the lockdown, it was not so easy to compost many items or too safe them in our house for two weeks and then to compost after.  We had some issues with our grocery delivery and our order arrived 2 days after it should so with no food, we were left with no option but to make use of ready-cooked meals for the first two days. I opt for items that came in reusable containers that I washed and have used over and over since then. 
Food Waste
I tried to minimize food waste as much as possible, but we still had a few off-cut pieces from food prep. I saved all the scraps in a plastic bag that our spinach leaves came in and kept it in the freezer. I also drank a lot of tea during isolation and would usually use loose leaf tea but this was not available and I was left using teabags. After I used the tea bags, I would let them dry out a little on a plate and once they were dry, I would cut them open and place the leaves together with the rest of the food waste in the bag in the freezer. The teabags are not always compostable, or recyclable, most tea bags even contains plastic. The used tea bags unfortunate had to be sent to a landfill after. I kept all the empty bags and a plate in the freezer to make sure it did not smell or attract any pests. Our bag of food waste was given to our family to compost in their garden once we were out of self-isolation.  
How we stayed hydrated
This was something that I came prepared for. I purchased a Binchotan Charcoal Water Filter and packed it in our luggage. It works as a natural water filter that you can add to any bottle or jug. It filters the water naturally by removing chemicals such as chlorine and also adding minerals like calcium to the tap water. Our tap water was safe to drink so you might want to check this before you go into isolation as you might need a stronger filter. We had a large cooking pot in the kitchen that I use to filter as much water as possible at a time. The pot was kept in the fridge and once the water was filtered, I would fill up our empty wine bottles (reuse before recycle right) and started a new water filter batch. I am happy to say that we did not use a single, single-use plastic water bottle to stay hydrated.  
Recycling Station
I tried to reuse as much of the packaging we got as possible, but there was a lot that could not be reused and had to be recycled. For the recycling I set up a little recycling station, or well it was more like three shelves in a cupboard, but it worked great.  
Station 1 aka the bottom shelf – I placed all our glass bottles and soda cans that can be returned as part of the containers for change program that gives 10c refund for every container.  
Station 2 aka the 2nd shelf – This was for all of the soft plastic, that we used and in Australia, we have a recycling program RedCycle that recycle these materials and turn it into furniture. Some of the plastic that can be recycled through this program is basically any soft plastic that you can scrunch into a ball. This also includes your silver-lined chips packets. They have an entire list on their website of what can and cannot be recycled.  
Station 3 aka the top shelf – this was for all the paper, cardboard and hard plastics and tins that would be collected by the Local kerbside recycling program.  
Stashers and collapsible containers
I brought collapsable silicone containers and stasher bags with me from Brisbane. They were first used to keep my liquids from leaking all over my suitcase in my luggage. After a good wash, they came in very handy to store food in the fridge and freezer. Helping to save a lot of food from being wasted. Our collection of containers grew a little with our first two days of take-out containers. I still use some of those containers currently.  
After two weeks of isolation, we were left with only a small plate of waste that was sent to the landfill. This included mainly used empty teabags moisture absorbers from some of the groceries we ordered, pill strips, yarn from packaging and a mesh swab from trying to donate blood a week after isolation. We did have a lot more recycling than we would usually have. This made me think back to when I was wearing my trash suit for 30 days and just how easy it is to create waste at the click of a button, but with a little preparation and thinking about what you purchase, you could reduce your waste.  
I hope you have found these tips helpful, if you have let me know what tips you liked or have tried and if you have some other tips that you have tried out that you just loved.