Banana Carrot Delight Cake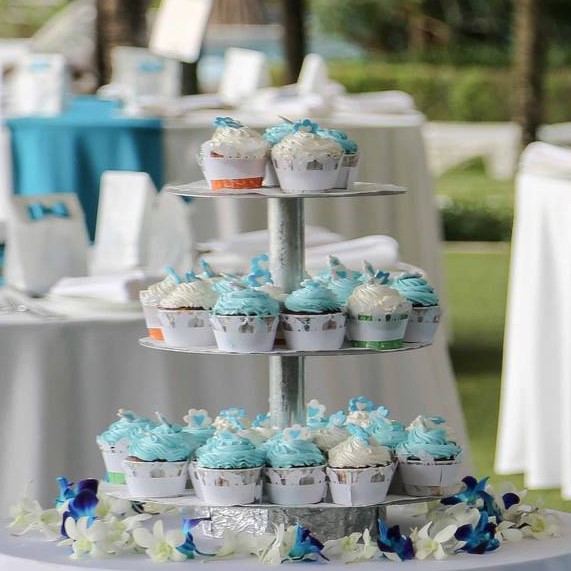 This recipe has been with me for some time and I have evolved it over the years. I first got this recipe from my mother in law back in the day when my husband got a little homesick and wanted his mother's carrot cake for a birthday. This cake was also our wedding cake/cupcakes as well as shared on a number of special occasions. It is super moist (yes I just used moist in a sentence) and so delicious. I love to switch up the nuts every now and then, but my favourite is macadamia nuts. The mixture is enough to make 24 standard cupcakes, 12 giant cupcakes or an 8-inch cake or.
We really love the cupcakes, but the temptation to eating them all is very high as they are just so yummy, therefore I have started freezing half of the batter when I make it. As we usually do the cupcakes I would freeze the batter directly in the cupcake liners in the cupcake tin. Once the batter is frozen solid you can place it in a container or a stasher bag works great. Just place the frozen batter in the cupcake tin and then directly in the oven till it is ready. If you want to freeze batter for a cake, it might be better to make sure your batter is defrosted and then place your cake tin before baking. 
If you love banana loaves you can also use this batter for this. Once your loaf is baked, you can cut it into thin slices and freeze whatever is leftover. This is great for unexpected guests as you can just pop the slices in the oven for a few minutes till it is warm, add butter and you have a winner.
Ingredients
Batter
1 cup vegetable oil (I like to use 125ml macadamia and 125ml grapeseed oil)
1 cup raw sugar
3 eggs
1 and 1/2 cup all-purpose flour
2 teaspoons baking powder
2 teaspoons cinnamon
1 teaspoons baking soda
1/4 teaspoon salt
1 cup banana (Mashed, I love using over ripped bananas that I cut into pieces and save in the freezer and use as needed)
1 cup grated carrots
1/2 cup chopped nuts (Macadamia is my but of choice)
Frosting
250g cream cheese

1/4 cup maple syrup (This depends on how sweet you like it, if you want it sweeter, add more maple syrup or raw sugar.)
Method
Preheat oven to 180°C
Line your cake tin or muffin tin with baking paper, cupcake liner or if you have reusable liners. You do not have to do this step, but I find that it is a lot easier cleaning my reusable liner than the tin. This is really up to you.
Combine the sugar, oil and eggs in a mixing bowl. I would usually use my electric mixer for this and mix until everything is mixed together.
Sift the flour, baking powder, cinnamon, baking soda and salt and add flour mixture to the egg mixture and mix till everything is mixed together. It will be a very stiff mixture.
Fold banana, carrot and nuts into the egg and flour mixture. (Make sure your banana is mashed smoothly. I usually place mine in our food processor for it to be very smooth.)
Place batter mixture in a lined baking tin or cupcake tin. If you are making cupcakes, make sure your cupcakes contain more or less the same amount of batter. This way they will all look a bit more uniformed and baking should be more consistent.
Bake for 25-35 minutes or until baked. I usually use a cake tester, toothpick or a sharp knife, stick it in the center of the cake or cupcake and if it comes out clean it is ready. If there is still a lot of batter sticking to it, you might want to give it another few minutes.
For the frosting, combine your cream cheese and maple syrup. I usually use my food processor or Kenwood mixer for this and make sure it gets whipped a bit. Once combined you can keep it in the freezer and if the cake or cupcakes are cooled down, distribute it evenly. Keep in the fridge till it is being served as the cream cheese frosting will melt and start to run.
Enjoy