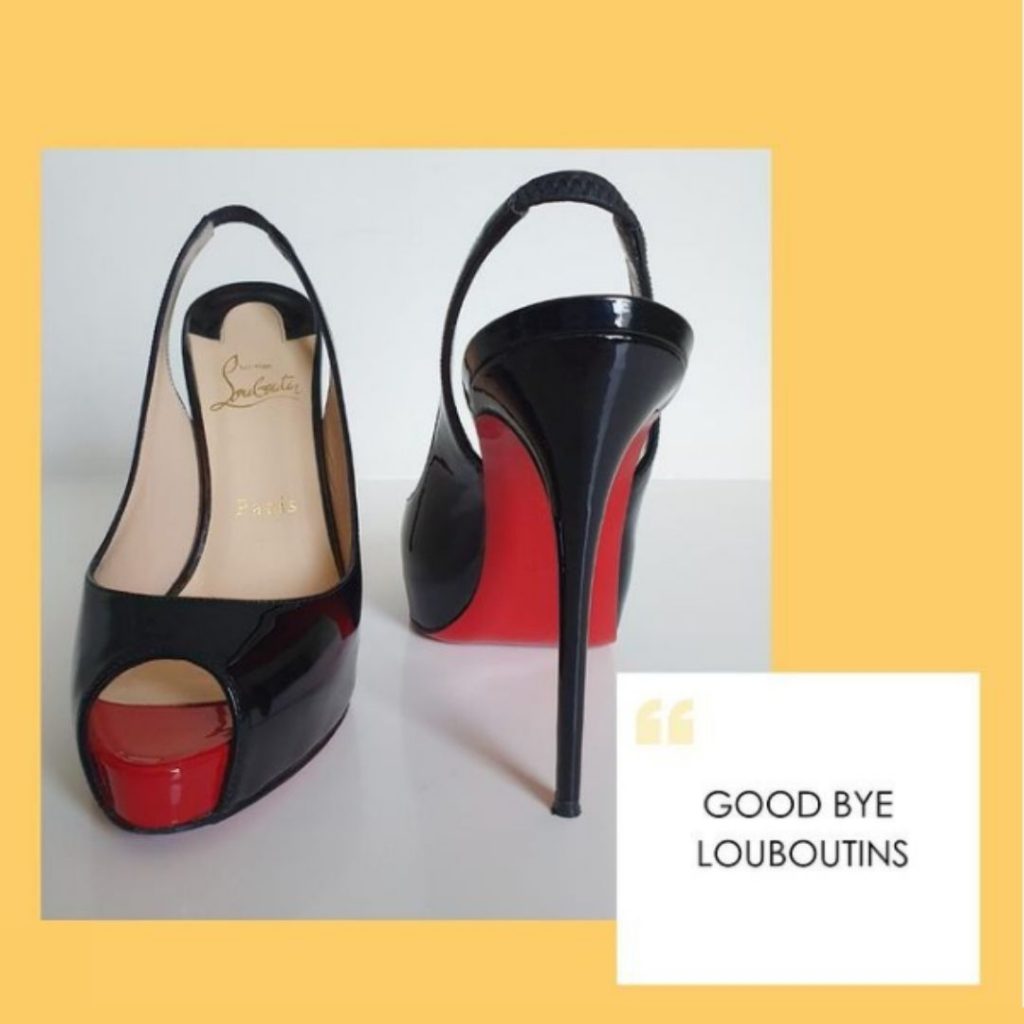 These beauties have been laying in their box for two years. I had to say goodbye, Louboutins! I wore them only twice since getting it as a Christmas gift from my hubby.  
I use to love going in the Christian Louboutin store and look at all these beautiful shoes that I could not afford. For me, it became a goal that one day I would be successful enough to afford a pair and could walk around rocking these red soles.  
Christmas came and my husband spoiled me with the most beautiful pair of Louboutins. For days after I would just stare at it. I could not believe that I own a real pair of Louboutins. Somehow it felt like I became part of this secret club where successful women wore their Louboutins and when they walk past each other give one another a secret nod. A nod that says, hey girl you made it welcome to the Louboutin club.
That brought me to the first time I went out to an event wearing the Louboutins.  It looked amazing but was extremely uncomfortable after standing an hour in the heals. I constantly had to go to the bathroom take off the shoes rub my feet and then put on a brave face and the shoes and walk without looking like something is eating away my toes.  
After the evening the shoes made their way back to the box. I took them out again to wear to our wedding anniversary dinner and I suddenly remembered why I have not worn them in two years. They look amazing and feel great for the first few minutes but as soon as you leave the house it felt like the shoe monsters came alive and started eating away at my toes. 
I was walking very tall but very slow not to damage the shoes and to keep a straight face although my feet were hurting like hell. After arriving back home I felt the biggest relieve to take them off. I stared at them with a sense of sadness. The shoes that once represented a sign that I have made it was now nothing more of a sign of foot pain.  
There was no secret Louboutin club, no one treated me better than usual while wearing them. The only thing that it did do was to make me uncomfortable to walk or stand for long periods of time. The confidence I thought I would get when wearing the shoes was exchanged for self-consciousness and feeling stressed to not look like an idiot when walking although I was super uncomfortable.
I packed the shoes in their box for the last time and decided it is time to let them go. Having a pair of shoes that only gets worn once every two years is just not worth it. If you are not 100% happy with anything in your cupboard and do not really use it. Let it go and have a second life. 
I also realized that I have grown so much in the last few years and realised that it is not the shoes that make the woman but the woman that wears the shoes.